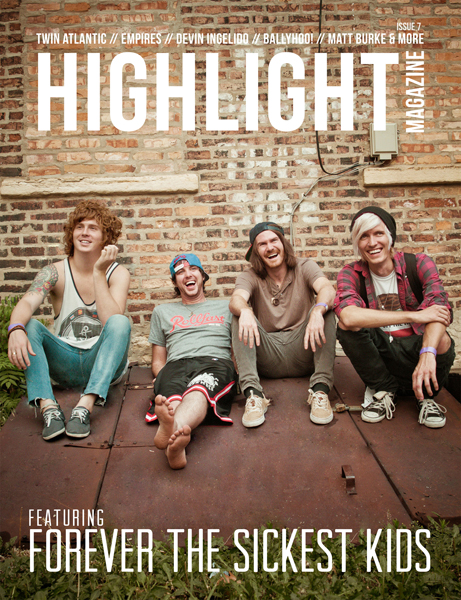 We've just passed half a year of issues! Here's the first of the second half for you! On this cover we have Forever the Sickest Kids. You'll get to read deep into their background and see why we feel they are truly one of the most respectable bands in their genre. We also recently caught up with incredible rockers Twin Atlantic when they were in the states! We're also very proud to exclusively bring you Devin Ingelido's first interview since his exit from VersaEmerge last year. As usual, we're bringing you one of our local Chicago favorites – September's pick is the phenomenal alternative rock band, Empires! We've also got features with industry favorites Ballyhoo!, Matt Burke, Golden Eagle Co. and more. This is truly another issue we're proud of and we hope you'll enjoy it just as much as we enjoyed putting it all together for you. Happy 7th issue, readers!
To read the issue, click on the OPEN PUBLICATION button below, or click here! Likes, tweets and thumbs up are appreciated and help us spread the word about our publication! (Check right above in this post! Just click 'like'!) You can purchase this issue here!
NEWS: We've recently created a FREE mailing list! You'll get one exclusive email from us each month and you'll get the dish on our issues before the general public! Sign up here!
Links: Twitter // Facebook // Tumblr // Instagram (@highlight_mag)