Wrecking Ball ATL: The Reunion Special
Words by Bridjet Mendyuk
The second annual Wrecking Ball ATL proved to be one of the best festivals in the country for any punk, pop punk, emo and old rock soul in the nation. Despite the actual hot-enough-to-cook-an-egg-on-my-forehead weather, the two-day fest was probably the best festival I've ever had the grace of attending. Full of friends, good food and great music at one of the most iconic venues in rock music, the stacked bill showcased more reunited bands than I'll ever get to see in my lifetime. The highlight of the weekend was getting to see: Piebald, Thursday, American Nightmare, L7, Quicksand, Ceremony, Drive By Jehu, The Julie Ruin, American Football, Gorilla Biscuits, Rainer Maria, The Promise Ring, Trapped Under Ice, Hey Mercedes, BURN, Milemarker and FREE. Without writing a whole novel, I've highlighted my favorite sets accompanied with the footage from the show from their most popular song.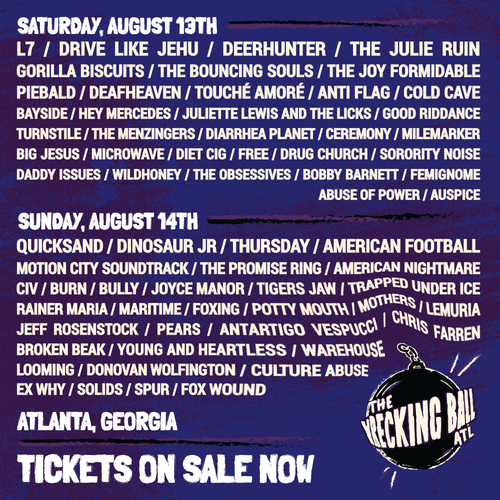 THURSDAY
If you don't know who Thursday is, that's okay because now you do. Their iconic albums
Full Collapse
and
War All The Time
came out in the early 2000s. The band took off from there and became one of the best crossover emo/post-hardcore bands to date. Full of energy and chutzpah, the band did not disappoint. Singer Geoff Rickly talked about feminism and how much Thursday means to him. The band will be playing a slot at
Riot Fest
, a definite must-see!
AMERICAN NIGHTMARE
Okay, so they
may
be reunited now for some tours and shows, but singer Wesley Eisold is a busy guy. If you don't know who American Nightmare is, they also go by Give Up The Ghost (lawsuit issues led to their name change post-breakup). Eisold is also the man behind Cold Cave, his project post-breakup. The crowd was insane. Located in the appropriately named Heaven room of The Masquerade, American Nightmare shook the whole room. One of the most polished hardcore bands in the scene, American Nightmare is solid from start to finish.
GORILLA BISCUITS
A week before Wrecking Ball, lead singer Anthony Civarelli got into
some touchy subject material
during a reunion set at This Is Hardcore in Philadelphia. While his intentions were good, some of the speech was taken out of context in his point of view. During his set at Wrecking Ball, he opened up Gorilla Biscuits' most popular and empowering song "Degradation" about what it was like having nazis and skinheads in the hardcore scene in the 80s and 90s. Out of every set at Wrecking Ball, Gorilla Biscuits 100 percent took the cake on capacity and live show. The most absurdly upbeat crowd and more stage dives than any other show at the fest. Seeing old and young fans sing together and jump around their favorite songs was a memory I'll always remember from Wrecking Ball.
TRAPPED UNDER ICE
If you like
Turnstile or Angel Du$t
, you'll like Trapped Under Ice. While they're not a band for the time being because of side projects, the band reunited for Wrecking Ball, and it was glorious. Harder than ever, faster and stronger, the band played most of their close to perfect record
Big Kiss Goodnight
and 7"
Stay Cold
. The band closed out Heaven (The Masquerade top level venue), and it went out without a hitch.
FREE
Some people aren't aware of who FREE really are: it's the members of
Have Heart
(the most popular hardcore band in the last 10 years who broke up in 2008). While I'm not a huge FREE fan, it was a big deal to get to see Have Heart players on stage playing music, even if it was another band.
HEY MERCEDES
The album
Everynight Fireworks
came out in 2001 and much like with Thursday, the emo feels were strong at Wrecking Ball this year. The album was flawless and the band fronted by emo prophet Bob Nanna (Braid, Lifted Bells, The City On Film) played the record to perfection. It was really interesting getting to see Hey Mercedes play right before Piebald, who are probably the biggest band to ever have "emo" as their main identifier.
PIEBALD
A show of a lifetime. THE show at Wrecking Ball. THE band that (most likely) influenced your favorite emo bands (if they were formed anytime after 1998). Such an amazing performance of feel-good and feel-bad emo songs that shaped a lot of 30-somethings in the early days of pop punk and emo. While the band are on a short tour appropriately titled the "
You're Part Of It
" Tour, this was my (as well as many others) only chance to see such an iconic band. For a band that used to get booed offstage, everyone came together to support such awesome dudes and their genre-changing jams.

Wrecking Ball ATL was a blast. It wasn't crowded and while the weather was a little hot, the festival was so amazing and exciting. The Masquerade is an iconic punk venue and seeing bands play there before the place is torn to shreds was something I'll never forget. It's also the only time I can say I got to see bands play in Heaven and Hell in the same day. Every band at the fest was perfect and inclusive of everyone at the fest, like a home away from home while your favorite songs are being played.
Did you attend Wrecking Ball ATL? Tell us who your favorite band was in the comments.