The Dirty Nil, Bleached, and Against Me!
Saturday, September 9th // The Showbox // Seattle, WA
Photos and review by Rachael Dowd
The Dirty Nil
Ontario-based rock band The Dirty Nil opened up the Against Me! tour last night with a bang, showcasing just why they were voted Breakthrough Group of the Year at this year's Juno Awards. Having just released their latest album, Minimum R&B, this past April, The Dirty Nil played a variety of tracks throughout their set, including one they had never played live until last night. In between bubble gum blowing breaks, frontman Luke Bentham showcased his powerful vocals with every track while bassist Ross Miller captivated the crowd with his energetic stage performance, making for one of the best opening sets to be seen in a long time.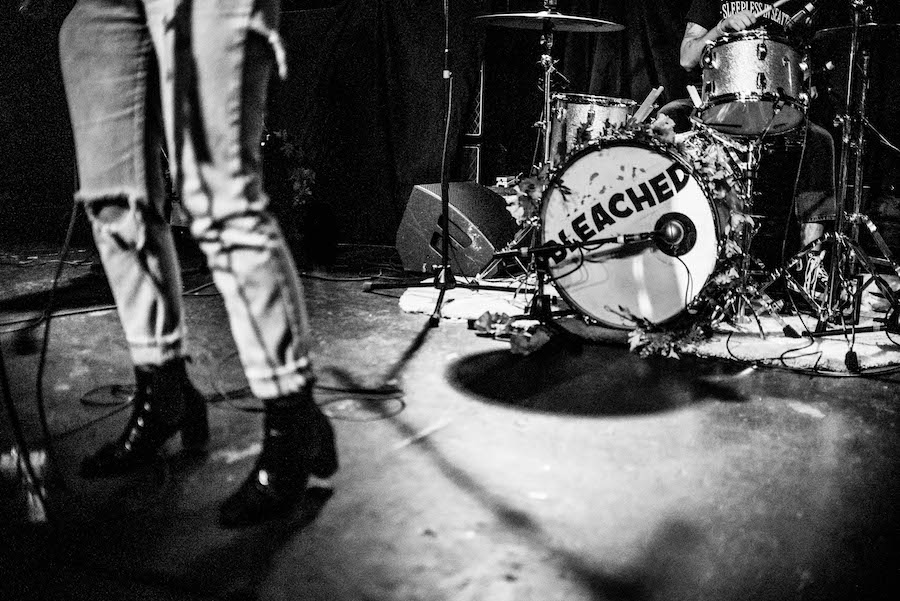 Bleached
LA-based band Bleached has become one of the most talked about acts in the rock scene for their high energy stage presence and colorful punk music. Playing a mix of tracks from their previous releases, 2016's Welcome The Worms and 2013's Ride Your Heart, Bleached even threw in a cover of Nirvana's "Territorial Pissings." While a bold choice to cover Nirvana in front of a Seattle crowd, they pulled off the cover in typical Bleached-style, showcasing their influences and ability to add their own style into classic tracks. Standing out in the music industry for their unique sound and stage presence, Bleached is a band that should be on everyone's radar.
Against Me!
Opening up their performance with "True Trans Soul Rebel," it became very clear that Against Me! fans were not going to be disappointed with the band's performance. With loyal fans filling the venue from the front of the barricade to the back of the bar, there was not a quiet voice in the crowd last night. "I Was a Teenage Anarchist" was a memorable moment of the night, leaving fans shaking the floor and singing at the top of their lungs. The band also threw in "Two Coffins," off of 2014's Transgender Dysphoria Blues, a raw and emotional performance that many in attendance last night will never forget.
Laura Jane Grace is an anomaly in punk music, she brings something to the genre that is so passionate and unique that it leaves every person in her presence completely captivated. Whether talking in between songs or singing out the lyrics to "This Shit Rules," there truly is no force like Laura Jane Grace in music today.
Against Me!'s set in Seattle last night was a welcoming and inclusive performance, fans of all ages and from all backgrounds coming together to honor a band that has been so influential on punk music and has changed the lives of many.