Interview by: Lindsy Carrasquillo
Words by: Lindsy Carrasquillo
Made up of Aidan Dolan (guitar/vocals), Nick Katz (bass/vocals) and Max Yassky, the New York City based band Upright Man will be releasing their debut self-titled album on August 18, 2017. Using elements from different genres such as psychedelic and classic rock, the band has created their own unique sound by pulling from various influences and their musical backgrounds. We were able to catch up with the band to talk about their upcoming album, touring and more.
How did the band first start? 
Max: Aidan and I were on the third iteration of playing together after an indie-pop band and my contemporary classical-indie-rock-jazz band. It was now the stage of Aidan's through-composed contemporary classical minimal-maximalist jazz-rock band. Nick, Aidan and I had been hanging out more and more trying to remember the difference between 2/4 and 3/4. I think we eventually decided to take a break from draining our brain matter and frustration onto Aidan's floor, and then we wrote a song that you could play with no thumbs.
Nick: I came over to Aidan's one time and he was writing a song that wasn't gonna get an opus number – I leapt at the opportunity and we both realized that writing things that didn't take 8 months to finish was a lot more satisfying.
Aidan: It was a very gradual process that came out of our collaborative relationships that we formed in college. At a certain point towards the end of studying classical composition at [New York University], we turned away from the modern classical aesthetic to rock and roll and pop music. We started writing songs for fun as exercises, but soon enough, we had a lot of them and we were going into the studio and naming the band.
What first made you interested in music and who are some of your inspirations?
Max: [I'm going to] have to give this one to nature over nurture. Nurture just made me stick with it.
Nick: I've been interested in and playing music since before I was making memories.
Aidan: Both my Dad and older brother had bands when i was a kid so I had access to a couple musical instruments. Once it became cool to be in a band in middle school, I started playing guitar and became obsessed with The Beatles. My interest in music became a lot deeper than wanting to join in on the fun.
Can you describe your local music scene?
Aidan: NYC is a big place with so many things going on, it can be hard to get started here as a band without playing a lot outside the city first.
Nick: We live in New York City, so, oversaturated.
Max: Like, all of it? Cause that is a large anthology of shit you are asking us to unpack.
How does your background studying classical music influence your work if at all?
Nick: Of course. Everything you see or hear influences your music. To compartmentalize only weakens the final product.
Max: It offers a language to communicate in that is only slightly clearer than "play that sad sounding chord again." 
Aidan: Coming out of college where we studied, played and composed lots of complicated classical music allowed us to feel like we could comprehend and play almost anything. Now we don't worry about writing something too simple as much as we strive to have our personalities and strengths shine through in our music as Upright Man.
You're gearing up to release your self-titled debut album on August 18, 2017. What was the writing and recording process like?

Max: All over the place in terms of fluidity/ease of writing. We got stuck on one song's lyrics right up until we recorded it. Another song we all wrote in an evening, at times literally filling in each other's sentences.
Nick: We did a lot of soul searching on this one. I've never seen as much growth as a group of writers in such a short time as I experienced with these two. The songs we were writing at the beginning and the songs we're writing now — well, let's just say we've managed to find what feels like a collective voice
Aidan: In the beginning, when the band didn't have a name and we were just friends writing songs together, the voice of the band was not so specific. Some songs were written as exercises, some felt good at the time, but didn't age well with us. It took us a lot of writing, playing, a few chunks of recording sessions over the course of almost 2 years to have enough songs recorded that we felt like sounded like Upright Man. 
What do you want fans to get out of this record?
Nick: Enjoyment.
Max: Sound. If they can't get that out of the record than their playback device may be broken.
Aidan: A pleasant feeling they want to share with others.
You recently played with Robert Randolph & The Family Band. What was that like?
Nick: That guy can really play the slide guitar, lemme tell you what.
Max: It was cool. I signed a t-shirt for a baby.
Aidan: We got to play at some awesome venues like Antone's in Austin, TX. I was tour in the South and I don't think I ate a single vegetable.
What should people expect from your live set?
Nick: What you hear is what we play. Ain't no fancy tracks or players behind the curtain. Just us goons up there gooning.
Max: I try not to tell people what to do.  
Aidan: There are lots of moments and transitions in our live sets that you won't hear on the album. We like to build in sections that allow to improvise freely and keep the songs glued together by sound.
What are some of your goals for the year?
Nick: We're making music videos for the record now, so finishing those, and just getting out there and playing more!
Max: Spruce up my bedroom, fix my air conditioning, get those lower abs toned… 
Aidan: Now that we have created our record, we want to keep creating more content like the intergalactic music video we just filmed for our song, "Ecstasy." It's too absurd to describe. It's time for us to play as many shows as possible and develop Upright Man beyond our studio recordings.
Are there any upcoming plans you can tell us about?
Aidan: Our song, "Say What You Mean," premieres on August 31, 2017. Also, our full debut album is getting released in August.
Is there anything else you'd like to share?
Max: If you'd have asked me that a week ago I'd have been an open book. I'm trying this thing out now where I'm more reserved…I think I'm doing it wrong.
Aidan: Stay tuned on our socials and website for more Upright Man fall dates.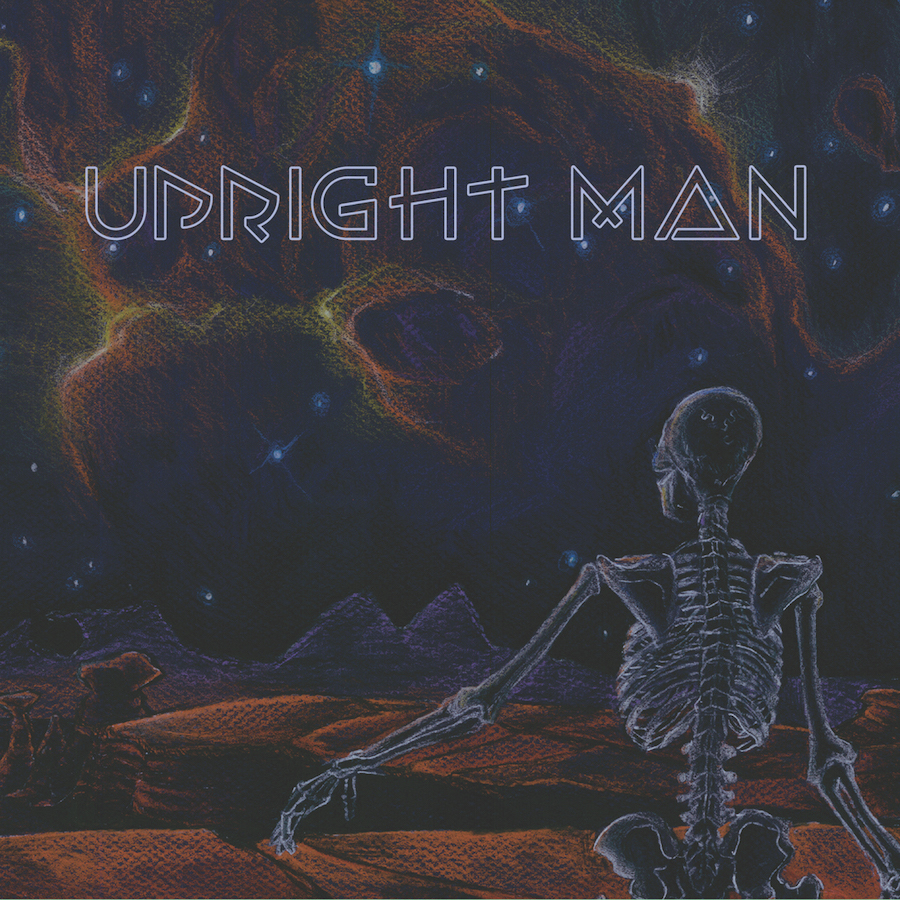 Upright Man on tour:
8/16 Ocean City, MD @Coconuts
8/17 Ocean City, MD @Fager's Island
8/21 Vienna, VA @Jammin' Java
8/23 New York, NY @Bowery Electric
8/24 Sellersville, PA @Sellersville Theater (w/ The Fabulous Thunderbirds)
8/31 Stanhope, NJ @The Stanhope House