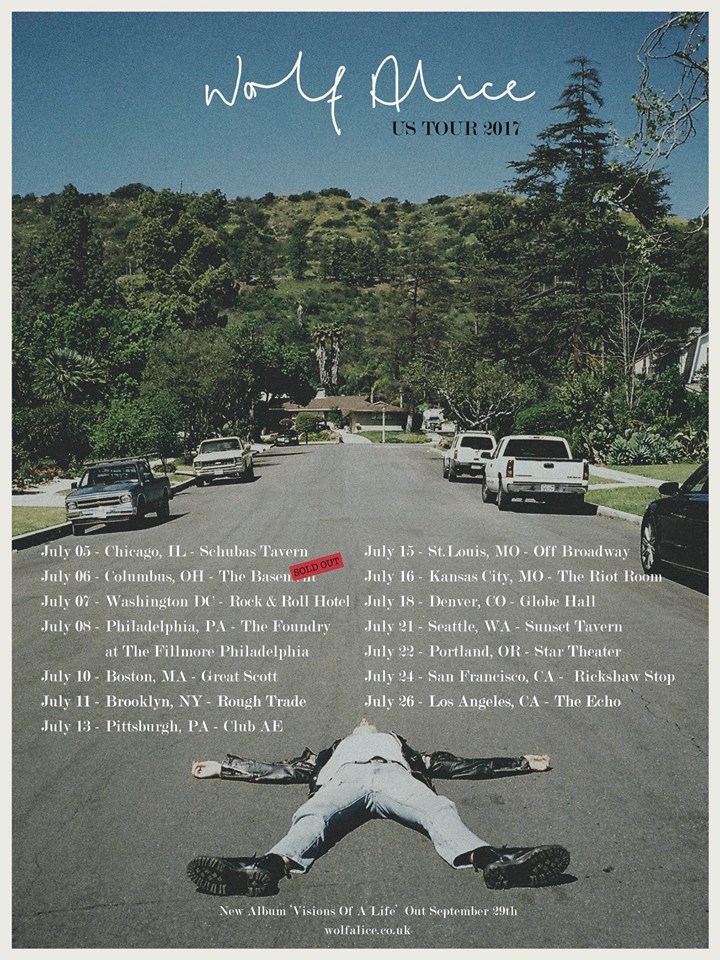 Review by Rachael Dowd
As one of the most anticipated shows to hit Seattle's Sunset Tavern, if you weren't in the Ballard neighborhood on Friday night, you missed one hell of a show.
Gaining momentum in the states since the release of their debut full length album, My Love Is Cool, back in 2015, London-based band Wolf Alice are an act that should be on your radar heading into the fall and 2018.
Embarking on a short month long tour across the United States promoting their forthcoming album, Visions of a Life, that is due out September 29th via Dirty Hit Records, Wolf Alice gave the Seattle crowd a show everyone will be remembering for a long time.
Living up to their reputation of putting on an energy-filled performance, the members of Wolf Alice didn't miss a beat from the second they went onstage until the last chords of "Moaning Lisa Smile" rang through the speakers.
Giving fans that were lucky enough to get tickets a fourteen song set list of old favorites and new songs off of their sophomore album, the audience was treated to a sneak peek of what's to come from the UK band.
Opening up the night with "Don't Delete The Kisses," the lead single off of Visions of a Life, Wolf Alice incorporated a number of songs into the set including "Bros," "Your Loves Whore," and even "Blush," a song many in the audience had speculated on if it would be included into the show or not.
"Yuk Foo," a song that had only been released a few days prior to the Seattle show, was a moment that truly showcased the stage presence and artistry the members of Wolf Alice have to offer. From the charismatic energy bassist Theo Ellis brings to the band's entire performance to Joff Oddie who spends his time onstage moving between guitar, vocals, and synths, the passion this band has for the music they create is undeniable.
With years of touring under their belts, there is a sheer effortlessness that comes through any of Wolf Alice's performances, having the ability to recreate their songs to sound almost identical to what fans hear on their records. Whether it's a fan favorite track or a song no one has heard before, there is no doubt that Wolf Alice manages to bring their sound to life while also having a little fun onstage.
As buzz around Wolf Alice increases as the release date of Visions of a Life draws closer, it's only a matter of time before Wolf Alice trades in club gigs for arena tours. With shows booked around the world that bleed well into next year, the music scene better get used to hearing about Wolf Alice because they aren't going anywhere, and more likely than not, they'll be in your city soon.