The Maine will perform not one, but two albums in their entirety on the just-announced Modern Nostalgia Tour. This fall, the American Candy and lovely, little, lonely eras collide, with support from Dreamers and Night Riots.
The band explained the inspiration behind their unique tour via social media:
"It always felt like these two albums were made to be listened to from front to back. We are excited to play them for you in just that way. Two albums. One night."
Tickets go on sale Friday.
Tour dates:
10/ 24 Los Angeles, CA
10/25 Sacramento, CA
10/27 Salt Lake City, UT
10/28 Denver, CO
10/30 Lawrence, KS
10/31 St. Louis, MO
11/1 Chicago, IL
11/3 Cleveland, OH
11/4 Buffalo, NY
11/10 Baltimore, MD
11/11 Norfolk, VA
11/12 Raleigh, NC
11/15 Atlanta, GA
11/17 New Orleans, LA
11/18 Dallas, TX
11/19 Austin, TX
11/ 22 Phoenix, AZ
11/24 Anaheim, CA ⠀⠀⠀⠀⠀⠀⠀⠀⠀⠀⠀⠀⠀⠀⠀
(The Maine and Night Riots (only) *)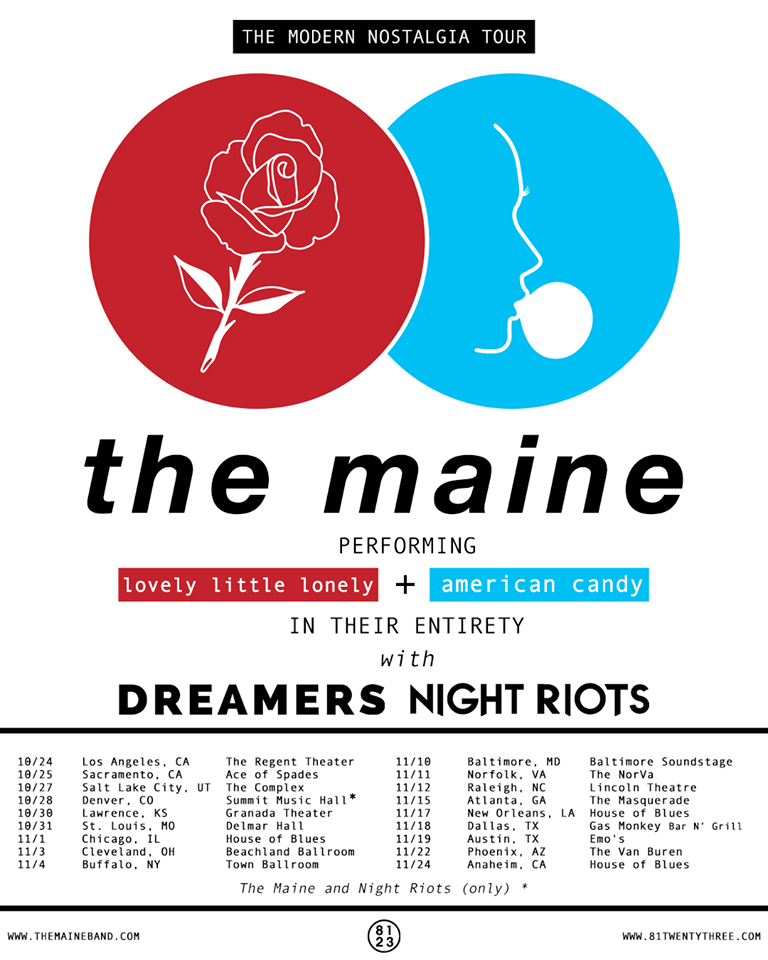 ⠀⠀⠀⠀⠀⠀⠀⠀