Interview by: Lindsy Carrasquillo
Words by: Lindsy Carrasquillo
The alternative rock band from West Virginia, Rozwell Kid, will be releasing their fourth full-length album, Precious Art, on June 23, 2017 via SideOneDummy Records. We were able to speak to lead vocalist and guitarist, Jordan Hudkins, about the album's writing process, their new single and more.
In March, the band joined The Menzingers and Jeff Rosenstock on tour as the opening act. With the crowds showing up early for the show and being attentive, Hudkins said the rooms were full by the time Rozwell Kid would take the stage.
"It was definitely an overwhelmingly positive experience," Hudkins said. "The Menzingers are the most amazing people and getting to tour with Jeff [Rosenstock] and the band was awesome, I had only met him a few times before and it was great to share the space with both bands every night."
Released in 2014, the band's last record, Too Shabby, the band had to fit in time to work on it similar to their previous releases. With Precious Art, the band was able to book two weeks in the studio.
"It gave us more flexibility in terms of structure and messing around with guitar tones," Hudkins said. "Seeing you know, maybe this part would be better if it was a little more this way or maybe it doesn't need to happen at all."
However, when it came to the writing process, Jordan says that it was pretty much the same. "I write all the songs and I try to give the band  80 to 95 percent of their demo," Hudkins said. "I try to give them as much of a complete song as I can because I know that they're better at the instruments than I am. [I'm] so [lucky], they get my little demo and they bring their flare and skills to it."
The album's single, "UHF on DVD," was released on April 25, 2017 along with a lyric video which garnered a lot of positive feedback. To create the lyric video, the band worked with Geoff Hoskinson who has done videos for the band in the past. The band had trouble coming up with a concept for the video but Geoff was able to execute it and create it quickly.
"I try not to read comments on stuff and things to keep my sanity," he said.  "It's out there in the world and people can love it or leave it I guess. I've definitely gotten some positive feedback on the phone which is cool."
Upon listening to the album's lyrics, it touches on different issues such as anxiety, insecurity, and the human condition. As the band did extensive touring for Too Shabby and it was their first time doing a full album cycle, the creation of this record allowed the band times to figure things out.
"I wouldn't say we were going through shit, I would say that we were doing a lot of touring on Too Shabby and we didn't think a lot of people were going to hear it," Hudkins said. "We especially didn't plan on signing to SideOneDummy [Records] which was a very cool surprise. Before I knew it, it was like, 'wow it's been a year and a half, where has the time gone? What have we been doing? How do I write now?' It kind of went topsy turvy for a second and I was confused. Before it was like, 'I've got nothing going on. I can write songs and put it up on Bandcamp. Rinse and repeat.'"
Following those thoughts regarding the band's future, Jordan went back to writing the types of songs that he wants to hear that gets him excited, saying "it was a roundabout way of getting back to exactly back to exactly where I am."
The album's closer, "Michael Keaton", is a story song. At over five and a half minutes, is about the American actor best known for his work in films such as Beetlejuice and Batman.
"We actually tracked the original music for that song when we were doing Too Shabby and re-tracked it for this record," Hudkins said. "I couldn't come up with lyrics or a melody I was happy with, I think we may have just ran out of time."
With the luxury of having two years to listen to the instrumental, the idea came through during the band's last day in the studio.
"There was a guy working at the studio and him and I were drinking coffee in the lounge while talking about songs that tell stories," Hudkins said. "I don't remember the artist we were talking about but he said something about the lines of, 'if the song doesn't tell a story, what are you doing?' I thought it was an interesting perspective. I wanted to finish that song so I thought, 'yeah, let's write a story song.' So, I had this idea which, originally, I wanted to turn into a screen play about kids running away from home to meet Michael Keaton."
As the band will go on their headlining tour in support of their record throughout July and August with support from Vundabar, Great Grandpa and Chris Farren, the band is excited to add something new to their set. While they can't tell us too much about other upcoming plans, Jordan said that fans should stay tuned for news about the fall.
Catch Rozwell Kid at one of the dates below and be on the lookout for Precious Art.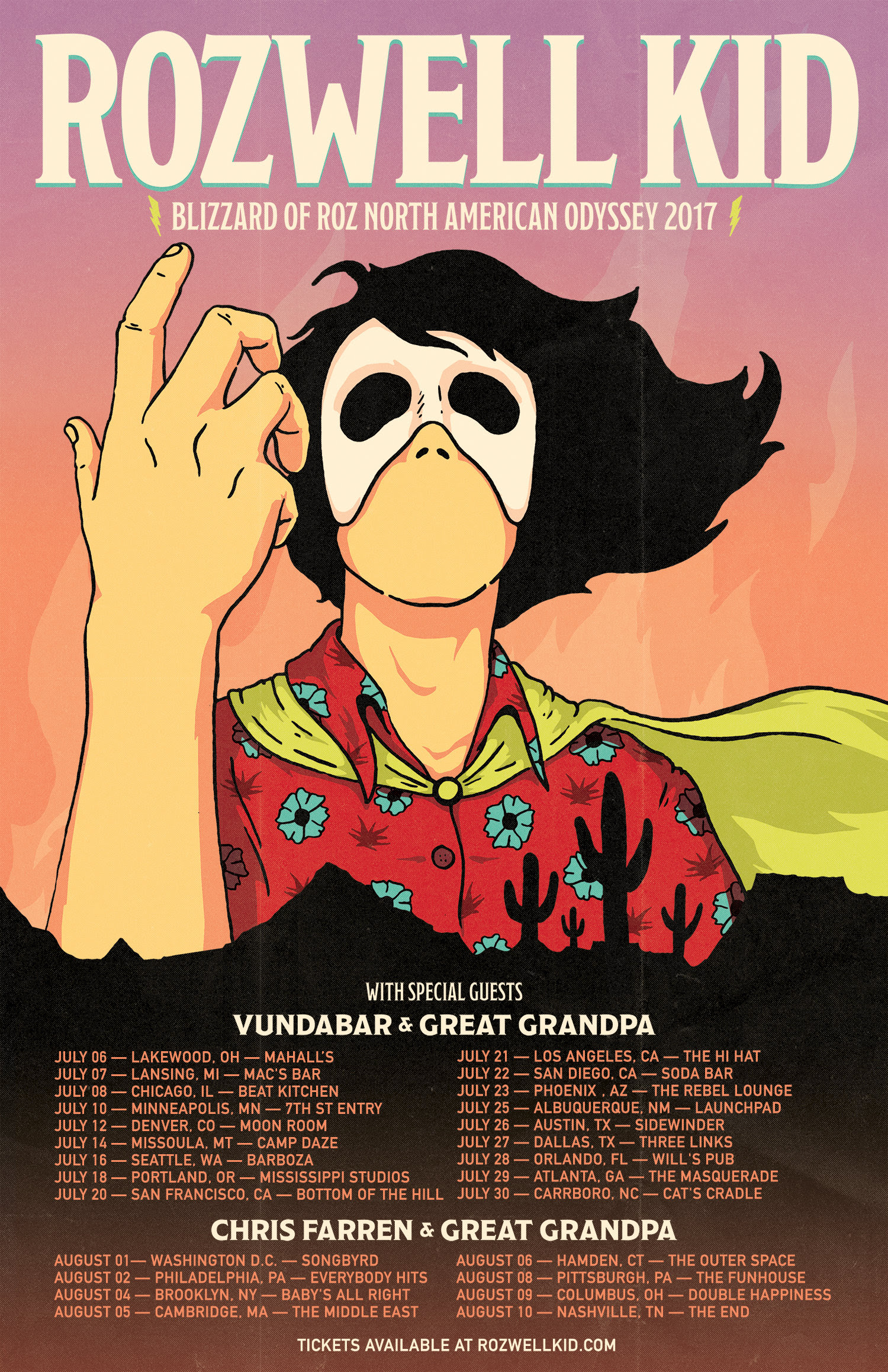 Jul 06 – Mahall's Locker Room – Lakewood, OH
Jul 07 – Mac's Bar – Lansing, MI
Jul 08 – Beat Kitchen – Chicago, IL
Jul 11 – Slowdown – Front Room – Omaha, NE
Jul 12 – The Moon Room @ Summit Music Hall – Denver, CO
Jul 13 – Camp Daze – Missoula, MT
Jul 15 – Barboza – Seattle, WA
Jul 16 – Mississippi Studios – Portland, OR
Jul 18 – Bottom of the Hill – San Francisco, CA
Jul 20 – The Hi Hat  – Los Angeles, CA
Jul 21 – Soda Bar – San Diego, CA
Jul 22 – The Rebel Lounge – Phoenix, AZ
Jul 26 – Three Links – Dallas, TX
Jul 28 – Will's Pub – Orlando, FL
Jul 29 – The Masquerade – Atlanta, GA
Aug 01 – Songbyrd Music House – Washington, DC
Aug 02 – Everybody Hits – Philadelphia, PA
Aug 04 – Baby's All Right – Brooklyn, NY
Aug 05 – The Middle East Upstairs – Cambridge, MA
Aug 06 – The Ballroom at the Outer Space – Hamden, CT
Aug 07 – Brighton Bar – Long Branch, NJ
Aug 08 – The Funhouse at Mr. Small's – Millvale, PA
Aug 09 – Double Happiness – Columbus, OH
Aug 10 – The End – Nashville, TN