From MGK,
The Chainsmokers
, Dashboard Confessional, From First To Last and more,
Emo Nite
may have started in Los Angeles, but the movement is in the hearts of everyone across the U.S. (and globe) who self-define as "sad as fuck." Growing faster than pop punk in the 2000's, Emo Nite is a team of party people who pack venues and nightclubs where showgoers can dance to their favorite pop punk and emo songs all night long. Similar to emo nights across America, Emo Nite set themselves apart by having live bands play. Now, the team travel the country hosting Emo Nite wherever they can (most of the time, featuring special guests). We caught up with them the week of their biggest party ever, which is happening May 4, 2017 at Webster Hall in New York City.
Why did you want to start the brand

Emo

Nite

?

I don't think we ever intended to start a brand. We just wanted to throw parties and play music we liked for our friends.
I know

Emo

Nite

has a clothing line now, what was the inspiration behind that?


When we started making clothes we approached it with the same philosophy we do for our parties. We throw parties that we would want to attend, so we make clothes we would want to wear.
What are some goals you want to accomplish with building up

Emo

Nite

? I know it's still a relatively young project, but it's growing fast.


We just want to keep throwing parties that we would want to attend as fans. Every band that we book or artist we work with – these are all people we want to work with and do cool stuff with.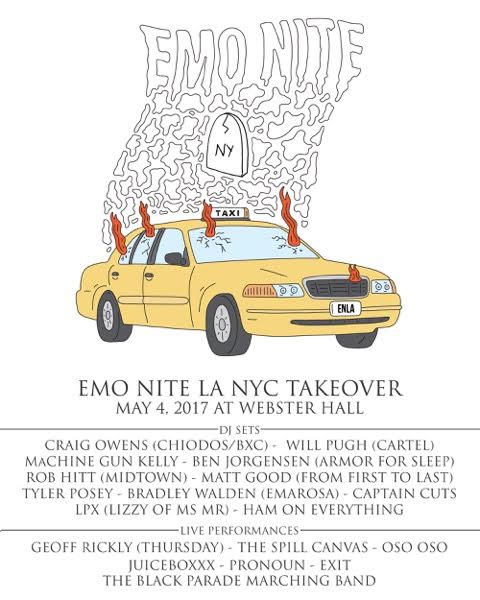 The May lineups are packed! There are a lot of live bands playing, are they going to be playing covers?

No covers really. We have been inviting live bands to perform at our L.A. parties for the past year or so and we have been able to highlight a lot of young up and coming bands that we believe in and give them a captive audience and a community that they may not have if they just booked a show on a random
Tuesday
 night by themselves.
Who would be

Emo

Nite

's dream DJ/band?


My dream was Chris Carrabba and that happened when he came and performed acoustic at our one year anniversary party in 2015.
Is there anything people should know before going to the

Emo

Nite

event in NYC?


It's going to be unlike anything you've ever experienced before!
You can buy tickets for the event here. Members of Cartel, Armor For Sleep, Chiodos, Emarosa, Ms Mr and more will be djing the event. There will be live performances from Oso Oso, Geoff Rickly (Thursday), The Spill Canvas and more.