Q&A/Premiere | The Sleeping Sounds Present "Desire": "Love can be both a blessing and a curse"
Words & Interview by Stephanie Smith
Hailing from Cleveland, Ohio, Zach Daniels, Anthony Lauletta, and Mike LaSpina are The Sleeping Sounds. The trio unveiled their first single, "Figure It Out," in October and today, premiere the title track of their debut EP, out Friday. With "Desire," The Sleeping Sounds offer familiar infectious, palm-muted riffs–but in contrast to the free-spirited "Figure It Out," the new track is an exploration of a darker, addictive love. Taking this Valentine's Day and the current social climate into thematic consideration, The Sleeping Sounds have been inspired by love and its many manifestations. We spoke with vocalist Zach and guitarist Anthony on their influences, recording their first EP, and the message they hope to spread with their music.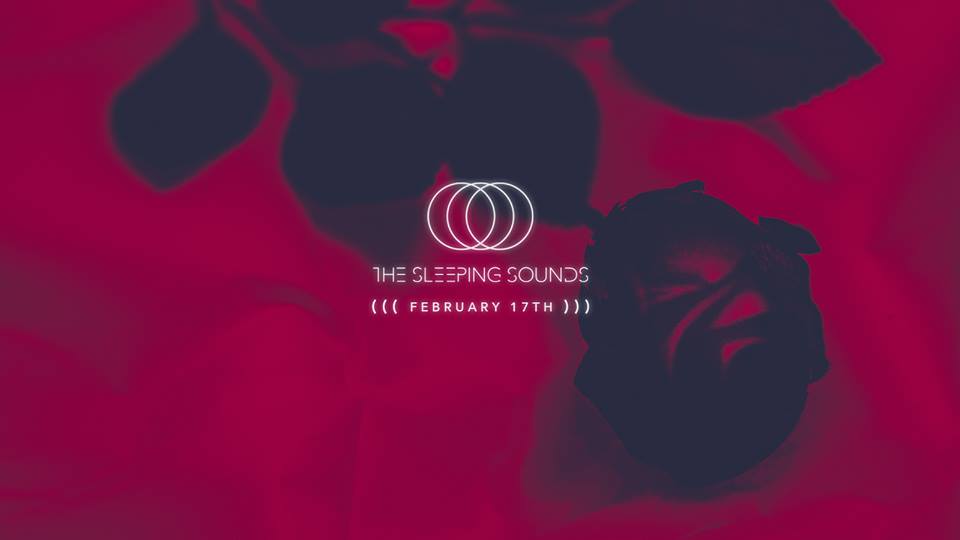 The Sleeping Sounds have crept onto the scene and I'm sure there are other listeners like me eagerly anticipating more music! To start, seeing as music genres tend to be very fluid these days, how would you describe the music The Sleeping Sounds make, and from whom and what does the band draw their influences? Where does the band's name come from?
Anthony: I think the music we make is in response to our own maturity as people. We've all grown up listening to a lot of newer rock, punk and pop music. For me personally, I sort of want to take it all back to the music my parents would show me growing up—Prince, CHIC, Michael Jackson, Diana Ross—I draw a lot of influence from 80's R&B and even that culture. I know Zach and Mike do too.
Zach: The one thing we really focus on is creating something timeless. That's what artists like Michael Jackson and Prince did—we don't even really think about genres, and I doubt they did either—guessing, of course, haha. The name 'The Sleeping Sounds' comes from us wanting give people an escape from reality through our music. We want to create music that minds can absorb and enjoy just as a sweet dream.
How did the songwriting and producing processes play out with the first EP? What were everyone's roles in contributing to the final product?
A: Typically, I'd start with an idea for a chorus or even just a guitar riff, and Mike and Zach would come in and turn it into something crazy that I'd never thought of doing, haha. The best moments in the writing process definitely happened when the three of us were in the same room and could vibe off of each other. The coolest thing about the whole creative process was that we could just write what we wanted. We were a completely new band, and no one knew us, so there weren't any expectations as far as sonic direction.
Z: In my opinion, the songwriting and production process played out so smoothly that it was almost too good to be true. Like, I can't even tell you how it all came together—our minds were so ready and active to create music that things just seemed to fall into place. In a very short period of time, we wrote and produced some really impactful hits that somehow came from out of a fantasy into this real life musical existence. Obviously it's not always that easy and we did have many obstacles, but at the end of the day producing and writing the EP just felt right.
There's a stark contrast, both sonically and lyrically, between your first single, "Figure It Out," and "Desire," which Highlight is premiering today. What's the story behind this darker track? Are songs with heavier emotional contexts more difficult to articulate, musically?
Z: I'm really glad you brought that up, and that minds and ears can grasp that! The story behind "Desire" started coming together when we decided that we wanted to write a song that balanced out our first single, "Figure It Out," and tie that into the concept of how 'love' can be both a blessing and a curse. I feel like we truly accomplished that in creating the two contrasting singles. Sometimes songs with the heaviest emotional contexts are somewhat easier to articulate musically.
Judging from the band's Instagram account, there seems to be a clear emphasis on The Sleeping Sounds' aesthetic – does this go beyond curating posts for marketing sake, and if so, how have The Sleeping Sounds gone about developing their aesthetic as a band? With bands like PVRIS incorporating their aesthetic into everything from their logo and merch, to coordinated black wardrobes and conceptually-linked music videos, what do you want listeners to associate with your band and to what extent will that reflect in your collective artistry?
A: We're all very visual people. Even with our music. The color red is a constant theme in our visual storytelling and all of the songs on Desire just because red is the most common color associated with the themes we're writing about—love, sex and desire. I think the one thing we hope people keep in mind when they hear us or see us, is that everything we release, whether it be visually or audibly, all carries the same message and tells a consistent story. We do this because we believe it can really help people experience a deep connection to our music—that's why we create it.
The Desire EP is out very soon, this Friday! With this first release being an introduction to The Sleeping Sounds, what message do you hope to get across through your music?
Z: Ultimately, I hope that our music channels love into people's minds and hearts. We feel like music is the best medium to spread that message. Right now, there's truly a lot of hate and dark vibes within our global community, so we feel like we're dropping this at the right time.
A: We don't necessarily feel like we're 'saving the world' with music, but more just doing our part to help people through whatever it is they're going through. It's fulfilling for us.
Anything else you can reveal for 2017? Any upcoming shows, perhaps?
A: We will be announcing some shows soon, but aren't ready to spill the details just yet! We will be doing our best to make our way around the midwest in 2017. Our main focus is still on writing this year, really.
Z: We're actually planning on getting back into the studio very soon to put some new songs out by fall. We feel super inspired right now, so we're sort of milking that for all it's worth and trying to keep putting out music while we have this awesome feeling.
Pre-orders for the Desire EP launch today and are available here.